Emily C. Casey
---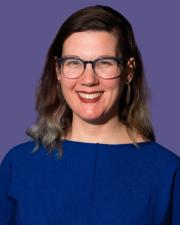 Hall Assistant Professor of American Art and Culture
She/They
Contact Info
200-B Spencer Museum of Art

---
Biography
—
Dr. Emily Casey specializes in American art and art of the early modern Atlantic World. Her research and teaching examine the visual and material cultures of empire and colonialism across the colonial Americas and the United States. As a researcher and educator, she seeks to push the boundaries of where and when we define American art. Through her work as a writer, speaker, and editor, she has contributed to discussions about the role of settler-colonialism and decolonization theory within the fields of American art and eighteenth-century studies. Her current book project critically examines British and American visual and material culture to reveal how the world's oceans became a space through which networks of empire and capital were imagined and constructed. Dr. Casey was a predoctoral fellow at the Metropolitan Museum of Art and the Smithsonian American Art Museum. She currently serves on the Board of the Association of Historians of American Art.
Education
—
Ph.D. in Art History, University of Delaware, 2017
M.A. in Art History, University of Delaware, 2012
B.A. in History of Art & French Studies, Smith College, 2009
Teaching
—
Lecture Courses:
American Art: Art of the United States
Art and the Sea: From the Age of Sail to the Age of Climate Change
Western Art History II: Renaissance to Contemporary Art
African American Art History
Graduate Seminars:
Colonial Art Across the Americas
American Museums: Race, Class, Labor
Selected Publications
—
Co-editor (with Tita Chico) and single author of introduction to "Decolonization and Eighteenth-Century Studies." Essay cluster in Studies in Eighteenth-Century Culture, Vol. 52, 2023.
Book Review: "Anna Arabindan-Kesson, Black Bodies, White Gold: Art, Cotton, and Commerce in the Atlantic World and Danielle C. Skeehan, The Fabric of Empire: Material and Literary Cultures of the Global Atlantic, 1650-1850," Journal of Early American History, Vol. 12, Issue 2-3 (Fall 2022).
"A More Perfect Atlantic World: Abolition, Liberty, and Empire in Art After the American Revolution," Winterthur Portfolio, Vol. 56, No. 4 (Winter 2021).
Editor and author of introduction to "Where and When Does Colonial America End?" Colloquium, Panorama: Journal of the Association of Historians of American Art. Fall 2021 (7.2). (Open Access)
"Raphael's Cartoons and Eighteenth-Century British Identity: from English National Treasures to American Raphaels," in the exhibition catalogue The Raphael Tapestries--Inspiration and Representation,  Gemäldegalerie Alte Meister, Dresden Germany (2020).
Book Review: "J. M. Mancini, Art and War in the Pacific World: Making, Breaking, and Taking from Anson's Voyage to the Philippine-American War," Winterthur Portfolio 53, no. 4 (Winter 2019).
"Visual Culture of the Atlantic World." Heilbrunn Timeline of Art History, Metropolitan Museum of Art, 2018. (Open Access)
"Mapping Ocean Currents." Open Rivers: Rethinking The Mississippi, no. 3. University of Minnesota, 2016. (Open Access)
"Is American Art History Conservative?" Invited Respondent, Bully Pulpit, in Panorama: Journal of the Association of Historians of American Art, Web. Summer 2016 (2.1). (Open Access)
Grants & Other Funded Activity
—
Selected Research Fellowships
OI-NEH Sharp Fellowship, Omohundro Institute of Early American History and Culture, 2022       
Program in Early American Economy and Society Fellowship, Library Company of Philadelphia, 2020