Marilyn Stokstad
---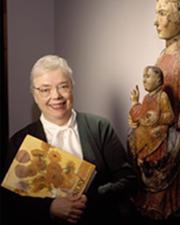 Professor Emerita
Judith Harris Murphy Distinguished Professor of Art History, Medieval Art
Biography
—
The Kress Foundation Department of Art History mourns the loss of our cherished colleague Dr. Marilyn J. Stokstad (1929-2016), who retired in 2002 as the Judith Harris Murphy Distinguished Professor of Art History.  
A Michigan native, Marilyn came to KU in 1958 with degrees from Carleton College (BA, 1950), Michigan State University (MA, 1953), and the University of Michigan (PhD, 1957), where she wrote a dissertation on the Romanesque Pórtico de la Gloria of the cathedral of Santiago de Compostela.  Early in her career Marilyn established art history – previously taught in KU's School of Fine Arts – as an independent discipline within the College of Arts and Sciences (now the College of Liberal Arts and Sciences) and she went on to implement our graduate program in art history.  From 1961-68 Marilyn served simultaneously as the director of the Museum of Art (then housed in Spooner Hall) and as chair of the art history department.  She continued in the latter role until 1972 before becoming associate dean in the College of Arts and Sciences (1972-76).  She was appointed University Distinguished Professor of Art History in 1980 and the Judith Harris Murphy Distinguished Professor of Art History in 1994.
In addition to curating dozens of exhibitions and publishing dozens of articles, book chapters, and reviews, Marilyn authored several significant books and exhibition catalogues, including Renaissance Art Outside of Italy (1968); Santiago de Compostela in the Age of the Pilgrimages (1978; reprinted 1993); Scottish Culture (1981, with Henry L. Snyder and Harold Orel); Gardens of the Middle Ages (1983, with Jerry Stannard); Medieval Castles (2005); and three highly successful textbooks: Medieval Art (1986; second edition, 2001); Art History (first published in 1995 and now in its seventh edition); and Art: A Brief History (first published in 2000 and now in its fifth edition).  
Her research was supported by grants from the National Endowment for the Humanities and the National Endowment for the Arts, among others, and she held prestigious fellowships at such institutions as the Smithsonian Institution's National Museum of American Art, Dumbarton Oaks, and the Institute for Research at the University of Wisconsin.  As a student, she was awarded Fulbright and American Association of University Women fellowships.
Along with important service to the College and University, Marilyn did prodigious service for the art historical profession throughout her career.  This included work as a committee and/or board member or officer for the Midwest College Art Conference, Midwest Art History Society, Society of Architectural Historians, Women's Caucus for Art, Mediterranean Studies Association, Medieval Academy of America, International Center of Medieval Art, American Society for Hispanic Art Historical Studies, Archeological Institute of America, and the College Art Association, which she served as secretary (1974-76), vice-president (1976-78), and president (1978-80) – the second woman to hold that position. She was also active both locally and nationally in the American Association of University Women and the American Association of University Professors.
A committed feminist, Marilyn was a member of the February Sisters, a group of twenty women who peacefully occupied KU's East Asian Studies building on February 4, 1972 to protest gender inequality at the University.  Their action led to several significant developments including the founding of the Hilltop Day Care Center, the establishment of KU's Women's Studies program and major, and the first appointment of a woman (Marilyn) as associate dean in the College.  Marilyn's feminist values also found expression in her financial support of KU's Emily Taylor and Marilyn Stokstad Women's Leadership Lecture Series, and in her textbook, Art History, which highlighted the creative accomplishments of women more than had any previous art history survey.  
In her retirement, Marilyn continued to lecture and write while also indulging her passion for world travel in the company of her beloved sister Karen and niece Anna.  She also made generous philanthropic contributions to many institutions and causes close to her heart, including, at KU, the Emily Taylor Center for Women and Gender Equity, Hall Center for the Humanities, Spencer Museum of Art, Kenneth Spencer Research Library, and Kress Foundation Department of Art History. 
Marilyn's many honors included recognition from her undergraduate alma mater, Carleton College (Distinguished Achievement Award, 1983; Doctor of Humane Letters, 1997); the Chancellor's Club Career Teaching Award from KU (1997); a Governor's Arts Award as Kansas Art Educator of the Year (1997); the James D. Burke Prize in Fine Arts from the Saint Louis Art Museum (1999); and a Women's Caucus for Art Annual Honor Award for Lifetime Achievement (2002).
Many of these awards recognized Marilyn for her contributions and commitment to the classroom teaching of art history, which not only benefited multiple generations of KU students but was extended over the last twenty years to millions of college students nationwide who have been introduced to our discipline through Marilyn's acclaimed textbook, Art History.  "I am dedicated to education and to the appreciation of the role of the arts in society," said Marilyn in 2002.  "The reason I began writing for students and for the general public was a missionary zeal to introduce the largest possible number of people to the visual arts."  That missionary zeal is an inspiration to all of us who share Marilyn Stokstad's belief in the power of art to transform lives and in the power of education to change the world for the better.   We celebrate her rich life and remarkable career with gratitude and admiration.
David Cateforis