Edmund Eglinski
---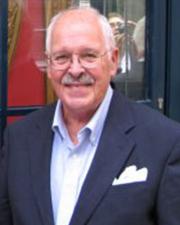 Professor Emeritus
Associate Professor, Renaissance Art
Biography
—
The Kress Foundation Department of Art History notes with sadness the passing of our retired colleague Edmund Eglinski, who died on May 7, 2017, in Lawrence at the age of 85. We extend our condolences to his family.
An obituary is published at: Warren McElwain: edmund-ed-r-eglinski
A native of Lorain, Ohio, Ed earned an AB in art and a BS in education in 1953 from Bowling Green State University. After service in the U.S. Air Force (1954-56) he entered the State University of Iowa (now the University of Iowa), earning an MFA in 1959 and a PhD in 1963.  The recipient of a Fulbright grant to Italy in 1961, Ed wrote his dissertation on 13th-century painting in Siena. He joined the KU art history faculty in 1963 and spent his entire career at KU. He served as chair of the art history department from 1992 to 1995 and as acting chair in fall 1996. He retired in 2001. 
A gifted and dedicated teacher, Ed regularly taught courses in medieval and Renaissance Italian art (and published an introductory textbook, The Art of the Italian Renaissance, in 1968), as well as the introductory survey of Western art history and other courses ranging from Greek and Roman art to twentieth-century art and Japanese art. 
In a remarkable outreach effort, between 1985 and 1990 Ed ran a series of summer workshops entitled Educating the Senses that enrolled public K-12 schoolteachers for three weeks of resident study on the Lawrence campus and in Kansas City. Ed invited numerous KU professors to lecture to the teachers on subjects including the arts, literature, drama, history and music. The class meetings in Kansas City emphasized application of the material introduced at KU.
A strong advocate of the importance of learning about art and architecture through direct experience, Ed taught the history of British art in KU's Summer Humanities Institute in Great Britain in 1982 and 1984; in 1990 and 1993, he directed the Institute and taught its art history component. Between 1996 and 1999, Ed taught art history in a KU summer study abroad program in Rome, and in the summer of 2000, he taught a study abroad course in Paris and Nice on modern French painting.
Following Ed's retirement, the Edmund Eglinski Prize for Study Abroad in Art History was established in his honor. This competitive scholarship benefits KU undergraduates studying art history in Europe. Ed and his wife, Pam, contributed to the endowment that makes this prize possible and Ed always enjoyed meeting the prize recipients and hearing about their study abroad experiences.  
Contributions in Ed's memory may be made to the Edmund Eglinski Prize for Study Abroad in Art History fund through the KU Endowment Association. To donate, please visit the KU Endowment website and designate your gift in memory of Edmund Eglinski.
David Cateforis
Education
—
B.A. in Art, Bowling Green State University, 1953
B.S. in Education, Bowling Green University, 1953
MFA, University of Iowa, 1957
Ph.D. in Art History, University of Iowa, 1963
Service
—
1964-1970 Assistant Professor, University of Kansas
1970-2001 Associate Professor, University of Kansas
1992-1995 Department Chair, University of Kansas
2001 Retired