John Pultz
---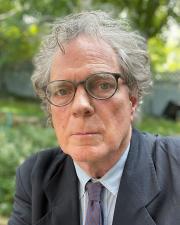 Associate Professor, retired
Associate Professor, Photography and Twentieth-Century Art
Education
—
Ph.D. in History of Art, Institute of Fine Arts, New York University, 1993
M.A. in History of Art, Williams College, Clark Art Institute Graduate Program, 1981
B.A., Amherst College, 1975
cum laude
Selected Publications
—
"Body and Photography: The Fabrication of Truth." In El cuerpo simbólico: representació y cuerpo contemporánea, edited by Leandro Allochis. 16-35. Buenos Aires, Argentina: La Stampa, 2017.
"Harry Callahan's Modernist Photography and the Street in the Cold War Era." In Harry Callahan: The Street. 21-35. Vancouver, British Columbia, Canada/London, UK: Vancouver Art Gallery/Black Dog Publishing, 2016.
"Harry Callahan, Modernist Photography, and Postwar Suburban Domesticity." In A Fine Regard: Essays in Honor of Kirk Varnedoe. Edited by Patricia Berman and Gertje Utley. Aldershot: Ashgate, 2008.
"Tim White's Photographs and Adolescent Time." In Awakening: The Photographs of Tim White. Berlin: Galerie Michael Schultz, 2007.
Diane Arbus: Family Albums, with Anthony W. Lee. New Haven: Yale University Press, 2003. Including the essay "Searching for Diane Arbus's Family Album in her Monograph, Box of Ten Pictures, and Esquire Work."
"Timothy H. O'Sullivan's Photographs of the West 1871-1873." In West Point/Points West. Denver: Institute of Western American Art, Denver Art Museum, 2002.
"Photography." In The Oxford Companion to the Body. Edited by Colin Blakemore. Oxford: Oxford University Press, 2001.
"Joseph Judd Pennell and the Era of Commercial Studio Photography." In James R. Shortridge, Our Town on the Plains: J. J. Pennell's Photographs of Junction City, Kansas, 1893-1922. Lawrence: University Press of Kansas, 2000.
Western Waters: Photographs by Geogory Conniff, Terry Evans, and Wander Hammerbeck. Exh. cat. Spencer Museum of Art, 1996.
The Body and the Lens: Photography 1839 to the Present. Harry N.Abrams, 1995. (Foreign-language editions: French, German, Spanish, Korean, Chinese)
Le Corps Photographié, with Anne de Mondenard. Flammarion, 1995.
"Austérité et Clarté: La nouvelle photographie aux États-Unis, 1920-40" and "Ansel Adams; An American Place, 1936." In Nouvelle Historie de la Photographie. Edited by Michel Frizot. Paris: Adam Biro/Bordas, 1994.
"Ansel Adams and Harry Callahan: A Case Study of Influence." In Ansel Adams/New Light: Essays on His Legacy and His Legend. San Francisco: Friends of Photography, 1993.
"Harry Callahan: The Creation and Representation of an Integrated Life," History of Photography, vol. 15, no. 3 (Autumn 1991):222-227.
"Fotografia americana 1918-1945." In Fotografia Americana del S. XX. Exh. cat. Barcelona: Centre Cultural de la Fundació "La Caixa,"1991.
Harry Callahan: Early Street Photography, 1943-45. The Archive Research Series, no. 28. Tucson: Center for Creative Photography, 1990.
"L'interprétation américaine du cubisme," Photographies, no. 7 (May 1985):18-20.
"Collectors of Photography" In A Personal Vision: Phtographs in the Collection of Paul F. Walter. Exh. cat. New Museum of Modern Art, 1985.
Cubism and American Photography, 1910-1930. With Catherine Scallen. Exh. cat. Williamstown: Clark Art Institute, 1981.
"Equivalence, Symbolism and Minor White's Way into the Language of Photography," Record of the Art Museum, Princeton University, vol. 39, no. 1/2 (1980):28-39.
Exhibitions
—
Spencer Museum of Art
2005 Feeding Lawrence/Work + Workplace: A Video Installation by Earl Iversen and Luke Jordan.
2003 Diane Arbus: Family Albums, with Anthony W. Lee.
2002 Remembering 9/11: The World Trade Center in Photographs.
1999 Cindy Sherman: Selections from the Eli Broad Family Foundation Collection, with Erin Barnett.
1996 Western Waters: Photographs of Gregory Conniff, Terry Evans, and Wanda Hammerbeck.
1995 The Body and the Lens: Photography 1839 to the Present.
1994 Land and Its Uses: Photographs from the Collection.
1993 A Survey of the History of Photography from the Collection.
1993 Photographs by Gordon Parks.
2002, Denver Art Museum: Metamorphosis: Modernist Photographs by Herbert Bayer and Man Ray.
1998, Kansas Interpretative Traveling Exhibits Service: The Face of the Law in Kansas From Territorial Days to the Present.
1991, Center for Creative Photography, University of Arizona: Harry Callahan: Early Work/Recent Work.
The Museum of Modern Art, New York, Reinstallation of the permanent collection (on view 1984-1990).
1983, The Museum of Modern Art, New York: BIG PICTURES by Contemporary Photographers, with John Szarkowski.
1981, Clark Art Institute, Williamstown: Cubism and American Photography, with Catherine Scallen.
Grants & Other Funded Activity
—
Field Editor for Photography, caa: reviews, an on-line publication of College Art Association, 2006-2010.
Book and exhibition reviews for American Studies, Great Plains Quarterly, The Commercial Appeal (Memphis), Art Journal.
Keeler Family Intra-University Professorship, University of Kansas, 2006.
Award for teaching excellence, Center for Teaching Excellence, University of Kansas, 1998.
National Endowment for the Humanities Summer Stipend, 1995.
University of Kansas Graduate Research Fund Fellowships, 1993, 1995, 1996, 1998, 2002, 2003, 2005.
Manuscript review for Yale University Press, Princeton University Press, University of California Press, University Press of Kansas, American Studies, Art Journal.
Juror for Society for Contemporary Photography (Kansas City), Kansas City Artists' Coalition, Hidden Glen Art Fair (Johnson County, Kansas), Lawrence Photography Alliance.
Portfolio reviewer for Santa Fe Center for Photography, Atlanta Celebrates Photography.
Lectures and other public presentations at University of Iowa, Mount Holyoke College, Art Institute of Chicago, Kemper Museum of Contemporary Art, University of Memphis, Arvada (Colorado) Center for the Arts and Humanities, State University of New York at New Paltz, Nelson-Atkins Museum of Art, Ohio Wesleyan University, Cornell University, Adelphi University, Baltimore Museum of Art, Bowdoin College, Minneapolis Institute of Arts, Pennsylvania State University, Institute of North American Studies (Barcelona), Midwest Art History Society (Chicago), Buenos Aires, Argentina.
Service
—
1999-2020—Associate Professor, University of Kansas
2001-2002—Consulting Curator of Photography and New Media, Denver Art Museum
1992-2006—Curator of Photography, Spencer Museum of Art, University of Kansas
1992-1998—Assistant Professor, University of Kansas
1992—Instructor, New York University
1991—Instructor, Kean College
1986—Visiting Assistant Professor, Bard College; Instructor, Tyler School of Art
1985—Consultant, Department of Photography, J. Paul Getty Museum
1981-1984—Beaumont and Nancy Newhall Curatorial Fellow, Dept. of Photography, Museum of Modern Art, New York
Ph.D. Dissertations Directed
Kristan Hanson, "In Bloom: Women and Horticulture in French Visual Culture, 1860s-1880s," 2020.
Ellen Cordero Raimond, "Upending the Melting Pot: Photography, Performativity, and Immigration Re-Imagined in the Self-Portraits of Tseng Kwong Chi, Nikki S. Lee, and Annu Palakunnathu Matthew," 2016.
April Watson, "On the Streets and In the Suburbs: Photographers of the American Social Landscape, 1963-1976," 2013.
Brett Knappe, "Barbara Morgan's Photographic Interpretation of American Culture, 1935-1980," 2008.
Michelle Robinson, "The Precondition of Landscape: Tropes and Meaning in the Rural Landscapes of J.W. W. Turner and John Constable," 2006.
Rachel Buller, "Fractured Identities: Photomontage Production by Women in the Weimar Republic," 2004.
Maria-Elena Buszek, "Pin-up Grrrls: Feminism, Sexuality and the Pin-Up Genre, 1860 to the Present," 2003.
Beverly Joyce, "'Sighing after the Infinite': Masculinity, Androgyny, and Femininity in the Art of Edward Burne-Jones," 2003.