Maya Stiller
---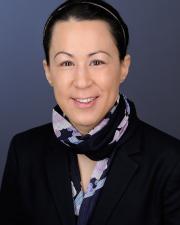 On leave during the fall 2023 semester
Associate Professor, Korean Art and Visual Culture
Director of Undergraduate Studies
She/her/hers
Contact Info
231 Spencer Museum of Art

---
Biography
—
Maya Stiller is an Associate Professor of Korean art history & visual culture and Director of Undergraduate Studies in the Art History Department at the University of Kansas. Currently she also serves as Chair of the Committee on Korean Studies at the Association for Asian Studies. Prof. Stiller previously taught at Harvard University, Kyushu National University, Freie Universität Berlin, and the University of Vienna. With a double major in Korean Studies and Art History, she spent several years living and studying in Korea and Japan, followed by a doctorate in East Asian Art history from Freie Universität Berlin, and a Ph.D. in Buddhist Studies from UCLA in 2014.
Professor Stiller's research concentrates on two major areas of interest: Korean Buddhism and Korean visual and material culture. Her first book Carving Status at Kŭmgangsan: Elite Graffiti in Premodern Korea was published by University of Washington Press in 2021. Her most recent peer-reviewed articles have been published in Religions, the Journal of Asian Studies,Cahiers d'Extreme-Asie, and the Journal of Korean Religions.
The courses offered by Professor Stiller cover a broad variety of subjects including Buddhist art, landscape painting, rock graffiti, and ceramics as well as post-colonial discourses on Korean cultural heritage, pop culture and Digital Humanities. An associated faculty member in the Center for East Asian Studies, her courses also contribute to the programs in East Asian Languages and Cultures. Her classes are structured around specific problems and current research questions. Courses are designed to engage students with Korean artifacts found in local museum collections, and to teach students how to critically examine primary and secondary sources.
Prospective Graduate Students: Visit Prof. Stiller's YouTube channel "Insights on Korean Art" to view lecture videos about Korean art. If interested in the program, please do not hesitate to email her directly. Prof. Stiller is interested in advising students working in all periods of Korean art history, ancient to contemporary, and in various media, from ancient Buddhist sculpture and landscape painting to contemporary performance art. A great academic community and departmental funding for doctoral research make KU an excellent choice for obtaining a graduate degree.
Education
—
Ph.D. in Asian Languages & Cultures, University of California, Los Angeles, 2014
Ph.D. in East Asian Art History, Freie Universität Berlin, 2008
M.A. in Korean Studies & Art History, Humboldt-Universität zu Berlin, 2003
Teaching
—
Graduate Seminars
Buddhist Art of Korea: Faith, Power, and Paradise
Digital Humanities for Art Historians
Korean Ceramics in East Asia
Korea-Japan Artistic Interactions, 300 CE – present (co-taught with Maki Kaneko)
Korean Painting, 1400 CE – present
Sacred Sites in East Asia (co-taught with Amy McNair)
The Economics of Buddhist Art in East Asia (co-taught with Amy McNair)
Directed Readings in Korean Buddhism and Korean Buddhist Art
Lecture Classes
Buddhist Art of Korea
Ceramic Arts of Korea – Placenta Jars, Pottery Wars, and Tea Culture
Ceramics of East Asia
Introduction to Korean Art
Modern Korean Art & Culture
Zen Art/Zen Buddhism
Awards & Honors
—
J. Michael Young Academic Advisor Award, University of Kansas, 2020.
Grants & Other Funded Activity
—
ACLS/The Robert H.N. Ho Family Foundation Postdoctoral Fellow in Buddhist Studies, Department of History of Art and Architecture, Harvard University, 2016-2018.
Soon Young Kim Postdoctoral Fellow, Korea Institute, Harvard University, 2015-2016.
Research Fellow, Art History Department, Kyūshū University, Fukuoka, 2011-2012.